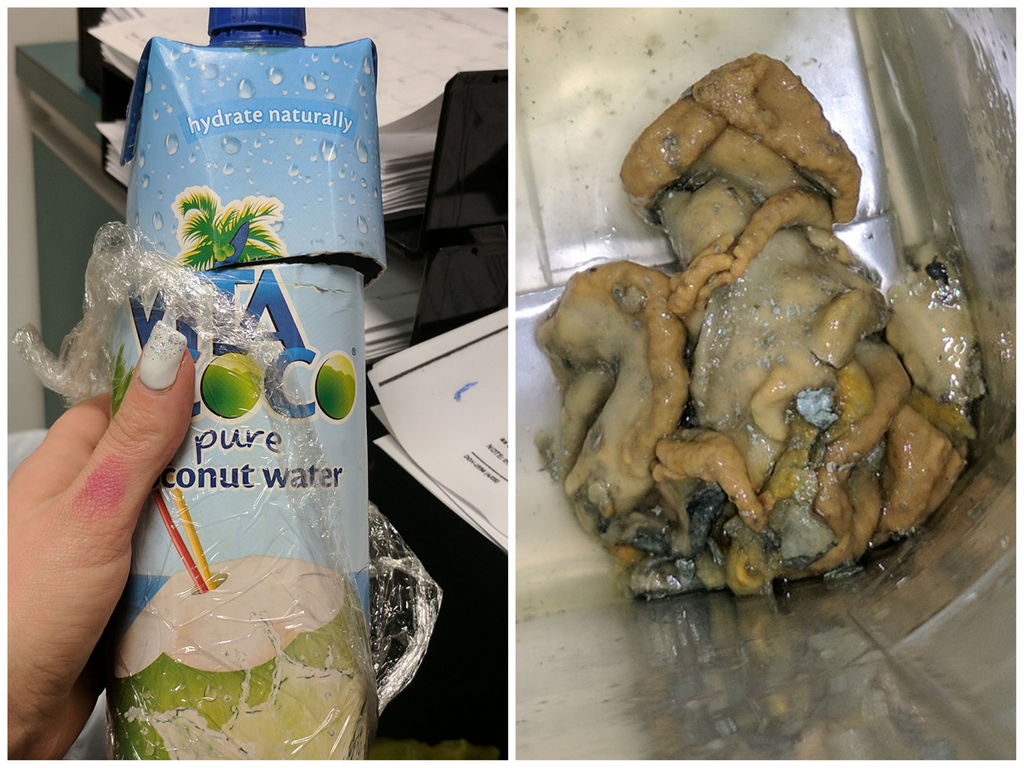 WOMAN SAYS SQUID-LIKE SUBSTANCE WAS FLOATING IN BOTTLE OF COCONUT WATER
A woman said a squid-like, gooey gunk she found floating in her favorite beverage made her violently ill, and she's on a quest to figure out what it is.

Barbara Kline, 34, said she made the horrific discovery on April 25.

After opening the beverage and taking a sip, Kline said she noticed something was very wrong.
"I swallowed a big clump. It was really nasty and it tasted really thick," she said.

She sliced open the Vita Coco coconut water container and found something disturbing inside.

"The legs, they're legs," Kline explained. "There's definitely something other than mold in there."
(Cont'd Below)


She said she believes the squid-like mass is some sort of animal. She provided these photos she took:
"I started vomiting," Kline said. "I was vomiting, I'd say a good couple days - a week - then I had diarrhea."

Kline, who has asthma, said she's still having difficulty breathing - even though all medical tests have come back negative.

She's since posted images of the mystery matter to Facebook that have been viewed more than 50,000 times.


"I just want answers," she said. "I want answers. I want to know what it is."

Vita Coco asked Kline for the substance so it can be tested, but she declined because she said she wants an independent test.

The company said it has a good idea what the substance is.

"What Ms. Kline encountered was random spoilage and does not pose a health risk," a spokesperson said in a statement. "What she claims she found is the result of either leaving the package opened and unrefrigerated; or her opening an already damaged beverage unit."

Vita Coco is the largest coconut water seller in the world and is reportedly considering putting itself up for sale for nearly $1 billion. It begs the question, is this claim about money?

"I'm not after money," Kline said. "That wasn't my intention. I'm after closure. But being that the company isn't working with me, I am looking into suing them."

Kline said she's meeting with a lawyer next week. While she considers whether to file a lawsuit, she said one thing is certain -- her days of drinking coconut water are over.
Via Marcus Solis with ABC 13
---