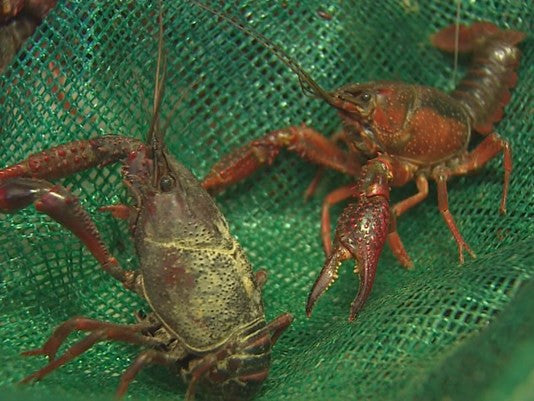 Virus Wiping Out Crawfish in South Louisiana, Houston Distributors Concerned
A virus that affects crustaceans is threatening the crawfish industry in Louisiana.
It's called the White Spot Syndrome Virus, or WSSV.
Despite its name, researchers say it doesn't change the way a crawfish looks. The virus wipes out large and medium size crawfish. It can also make them sluggish and weak.
Houston-area crawfish distributor Vincent Florio, owner of Critter Runners, has been keeping a close eye on the situation.
He imports more than 300 sacks of crawfish a day from Louisiana during the height of the season.
(Cont'd Below)
"I ended up calling a friend of mine earlier this year and saying, 'Hey man, what are you doing?' He said, 'I'm sitting here looking at my pond. Someone has poisoned my pond.' He said he had crawfish floating everywhere," said Florio.
WSSV started appearing in ponds in Louisiana a decade ago.
While the problem is not widespread, aquaculture specialists with the LSU AgCenter say this is the worst outbreak they've seen in years.
Farms in three or four parishes have reported outbreaks since January. They do not know what caused the outbreak.
Florio says none of the farms he works with have been impacted.
"If that would have affected one of my farmers and he was catching me 80 sacks then dropped to 35, how am I going to be able to support the restaurants I sell my crawfish to and be able to keep my business?" said Florio.
(Cont'd Below)
Researchers do not know how to stop the virus once it infects a pond.
If it continues to spread, it could make large crawfish harder to find. Florio says that could cost a farmer tens of thousands of dollars a week
"It might kill a large one and leave this smaller one around. Next thing you know, this (medium) guy here is all the farmer is catching. This (medium) crawfish sells for less money. He doesn't get the same money that he gets for this (large) crawfish," said Florio.
Researchers say WSSV is not harmful to people. It is safe to eat crawfish infected with the virus, according to the LSU AgCenter.
For more information about White Spot Syndrome Virus, click here.
Via Stephanie Whitfield KHOU
---