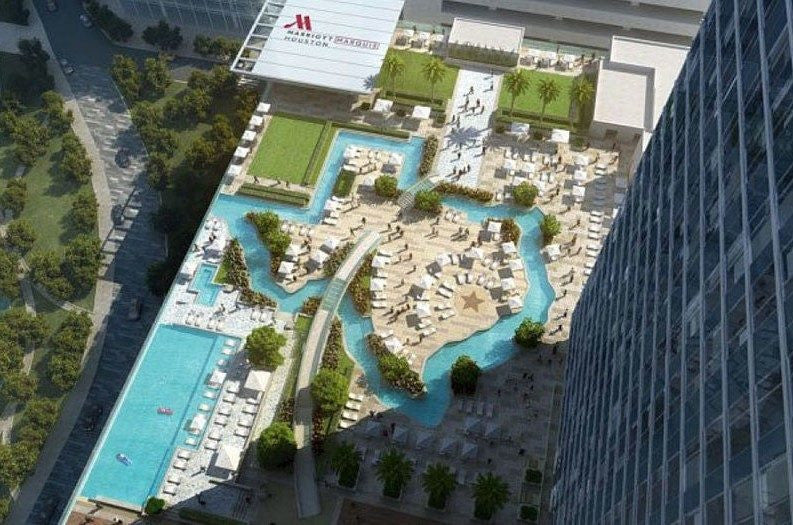 Two Texas Swimming Pools Named Among Best in the Nation
According to travel website Skyscanner, two of the best swimming pools in the nation reside in the great state of Texas. Which is good news, because it seems summer came early this year.
With temperatures already soaring into the high 90s, Texans need all the help they can get to keep it cool. And really, it's no wonder only one of the top 10 pools according to the site resides north of Las Vegas.
(Cont'd Below)
The first Texas pool to make the list is at the new Marriott Marquis Houston. The trendy 1,000-room hotel's crown jewel is its Texas-shaped lazy river on the rooftop. Guests also get a view of the gorgeous pool from their rooms. There's even a heated infinity pool overlooking Discovery Green Park. It's impressive, to say the least.


The second Texas swimming pool to make the list resides in the gorgeous hill country. San Antonio's JW Marriott features an amazing nine-acre water park. And you only get in if you're a guest of the hotel. How is that for privacy?
The luxurious resort features five waterslides and a 1,100-foot lazy river. And the park also recreates the ocean with a beach-entry pool. Plus kid-exclusive areas and adult-exclusive areas, too. The whole park definitely merits its own hotel stay.
Now, all the other pools on the list are quite impressive, too. Honolulu's natural beauty is hard to beat. Some people love the posh environment of Beverly Hills. While the plaster paradise of Caesar's Palace in Las Vegas definitely captures a one-of-a-kind look, these pools in Texas just take it to another level.
Not to mention all the amazing natural swimming holes in Texas. However you choose to cool off, Texas offers some stellar options.
Article Via JEREMY BURCHARD with Wide Open Country
---