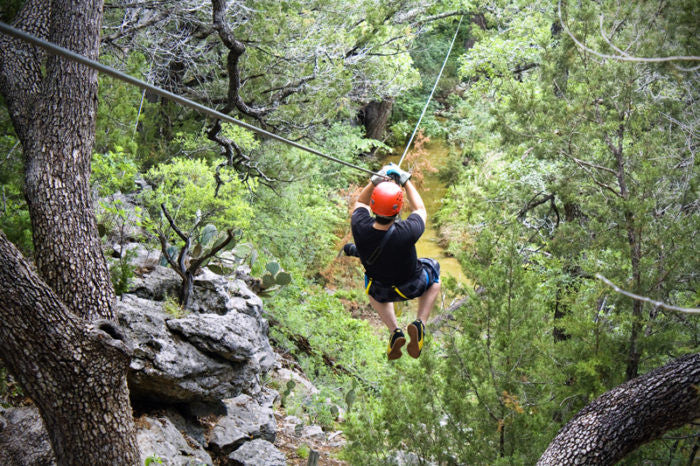 This Epic Zipline in Texas will take You on an Adventure of a Lifetime
Hidden in the thick foliage of Spicewood, this park allows you to get a bird's-eye view of the abundant plant and animal life inhabiting the forest as you fly through the treetops. I've been here and can personally attest to how much fun it is, but don't take my word for it – go have the experience of a lifetime for yourself.
You'll soar through the canopy of ancient cypress trees, some over 100 feet tall.
As you zip from platform to platform, the tour guides will be waiting for you at each stop to aid in your dismount.
It's almost like an above-ground obstacle course, with swinging brides (the guides make you go backwards across one of them!), rappelling, and flying through the treetops.
Not only is it incredibly fun, but also an educational experience. The knowledgeable guides will teach you all about the different plants and animals residing in the forest surrounding you.
(Cont'd Below)
The tour lasts about two hours and consists of 5 ziplines, 2 sky bridges, and a rappel. Make it an individual, group, company, or family adventure!
Starting off short and easy to get you acclimated to the course, the zips slowly increase in length leading up to the very last one, which is over 350 feet long!
Most guests end their tour by rappelling down the last platform, but an alternate exit is available for those not able to do so.
After your exhilarating journey, you're invited to stick around, unwind, and enjoy the rest of the park's amenities which include a private lake, swimming pool, and plenty of picnic tables.
The park is located at 1223 S Paleface RR, Spicewood, TX 78669. For more information and to make reservations, visit their website.
So, who's ready to soar? I know I am!
Fair Use Source: Katie Lawrence with Only in Texas
---