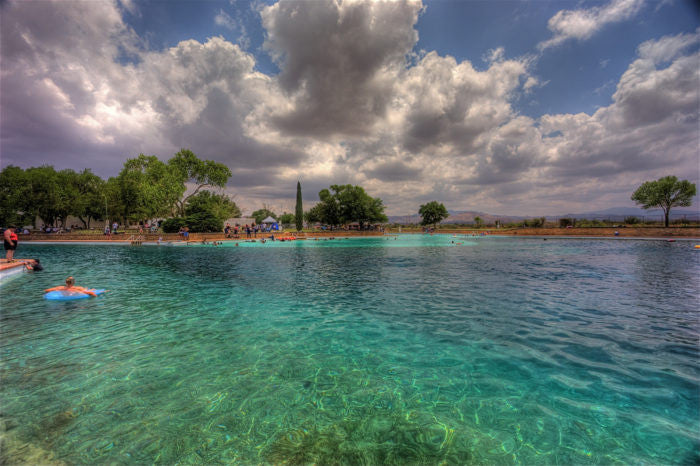 The World's Largest Spring-Fed Pool Is Right Here In Texas And You'll Want To Visit
Picture a pristine swimming pool with sapphire waters, rare fish, and scuba diving. Visitors lounge in the shade of tall trees and swimmers delight in crystal-clear water.
Chances are, you didn't think western Texas could be the setting of such a place. And yet against all odds, this desert oasis can be found in the heart of the desert plains. Balmorhea State Park features the largest naturally-fed swimming pool in the world and with hot summer days ahead, you'll want to plan your visit soon.
The picturesque Balmorhea State Park is located at 9207 TX-17, Toyahvale, TX 79786.
The park was built by the Civilian Conservation Corps in the 1930s and, ever since, has been a beloved attraction among locals and visitors alike.
The spring-fed swimming pool is by far the biggest draw to the park.
San Solomon Springs is the water source for this facility, bringing in nearly a million gallons of fresh water per day.
As you wade into the refreshing waters, you'll notice just how massive this two-acre pool is.
There are no lifeguards on duty, so swimmers are advised to use a buddy system. If you look closely, you can see the lighter blue waters make up an unofficial "kiddy pool" for younger swimmers.
At its deepest, the pool reaches 25 feet and can accommodate all sorts of activities such as snorkeling and scuba diving.
If you look carefully, you'll be able to get an up-close look at some of your fellow swimmers!
Whether you choose to dive, swim, float, or simply marvel at the surrounding natural beauty, your time at Balmohea State Park won't soon be forgotten.
The park also includes an impressive campsite facility and opportunities to admire the unique wildlife of this high desert environment.
Admission to the park is $7 per adult, and any certified scuba divers who wish to participate in night diving can pay an additional $5. For more information on the park as well as directions and hours, be sure to visit the official website. Have you seen the world's largest spring-fed swimming pool in person? We'd love to hear about your experiences there!
Fair Use Source: Beth with OnlyInYourState
---