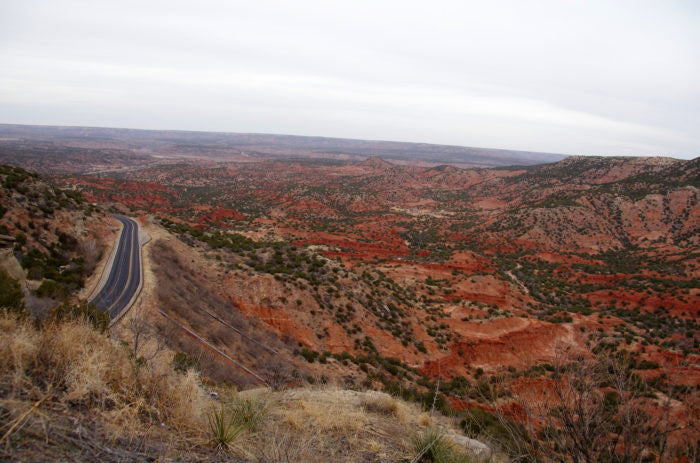 The 8 Best Backroads In Texas For A Long Scenic Drive
Considering the fact that our state is nearly 900 miles across, we have plenty of open road to explore. There's no feeling quite like that of hopping in your car and setting off down a Texas country road. Many highways in our state run through uncharted territory with towering mountains, lush greenery, and flowing rivers. These eight drives are especially breathtaking and definitely belong on your summer bucket list.
1. TX 207 (Canyon)
This breathtaking drive takes you through the red rocks of the second largest canyon in the country, Palo Duro. This segment of Highway 207 is FM 284, which can be found by following the signs towards Palo Duro Canyon State Park.
2. TX 118 (Fort Davis)
Also known as the Davis Mountains Scenic Loop, this drive lets you marvel at the over 8000-foot tall monoliths and lush greenery lining the roadside. Head west on the highway until you see spur 78, and then follow the loop for as long as you'd like.
3. Devil's Backbone (San Marcos)
This short Hill Country drive near San Marcos and Wimberley is absolutely stunning, complete with rolling hills and evergreen trees galore. The trail starts on R.M. 32 in Wimberley.
(Cont'd Below)
4. FM 170 (Big Bend)
Known as "River Road," this gorgeous drive parallels the Rio Grande. The stretch pictured above, starting in Lajitas and ending in Presidio, is full of twists and turns, majestic mountains, and the guiding waters of the stream if you should ever lose your way.
5. Ross Maxwell Scenic Drive (Big Bend)
Also in Big Bend, this 30-mile drive leads to the famous Santa Elena Canyon. Along the way, you'll pass a ranch, several scenic overlooks, and a historic district.
6. Willow City Loop (Fredericksburg)
Willow City Loop is especially gorgeous during the spring, when vibrant wildflowers line the roadway as far as the eye can see. From Fredericksburg, take State Route 16 north until coming upon Willow City, and then head east on Ranch Road 1323 before turning left on Willow City Loop.
(Cont'd Below)
7. Highway 90/385 (Marathon)
Marathon is known as the "gateway to Big Bend" because it's where the looming Chisos Mountains start to come into view in the distance. To see this spectacular view, follow Highway 90 until it merges with 385.
8. Lonesome Highway (Guadalupe Mountains)
The road leading to the Guadalupe Mountains is known as the "Lonesome Highway," most likely because, like on many remote Texas roads, you'll rarely cross paths with other vehicles or see any signs of civilization. If you want to see this hauntingly beautiful scene firsthand, travel west on Highway 285 until it meets Highway 180, then turn left and continue into the mountains.
Have you taken any of these drives? What's your favorite scenic drive in Texas?
Via Katie Lawrence with Only in Texas
---