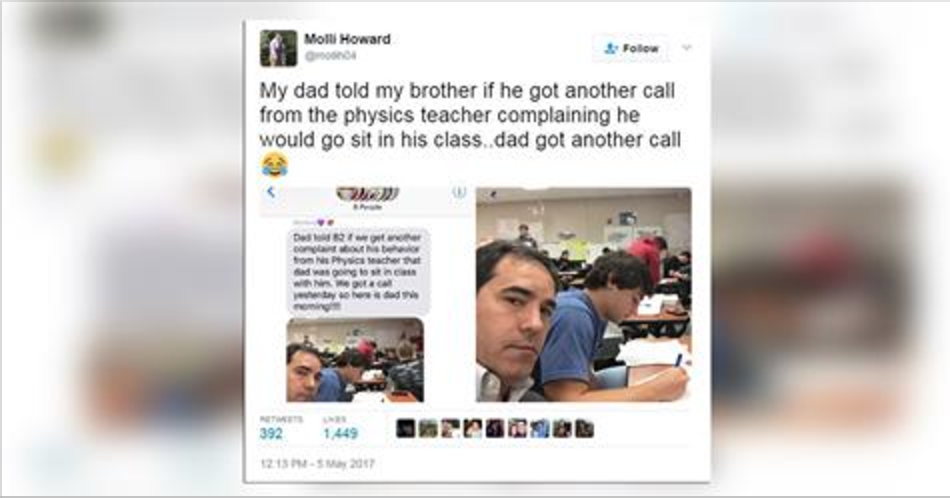 Texas Dad Keeps Good on Disciplinary Promise, Shows Up to Son's Class
A Texas dad keeps good on a promise to his son and now the two are trending online.
But it's not one of those promises the teen wanted his dad to keep.
The Rockwall teen definitely tried to call his dad's bluff but it backfired on him when his father showed up in class.
(Cont'd Below)
According to Buzzfeed, 17-year-old Bradley Howard has been getting in trouble for talking too much in his physics class. The teacher kept emailing his dad, who also goes by Bradley, about the issue.
So Bradley's dad threatened his son that he would show up and sit beside him in class.
His sister sent a tweet out with a picture of their dad hanging out next to Bradley in class. The tweet soon went viral on social media.
Bradley's dad said he hopes the embarrassment he clearly brought his son will keep him from ever having to do this again.
My dad told my brother if he got another call from the physics teacher complaining he would go sit in his class..dad got another call 😂 pic.twitter.com/zteNyXqhpy

— Molli Howard (@mollih04) May 5, 2017
Via Audrey Castoreno and KENS
---