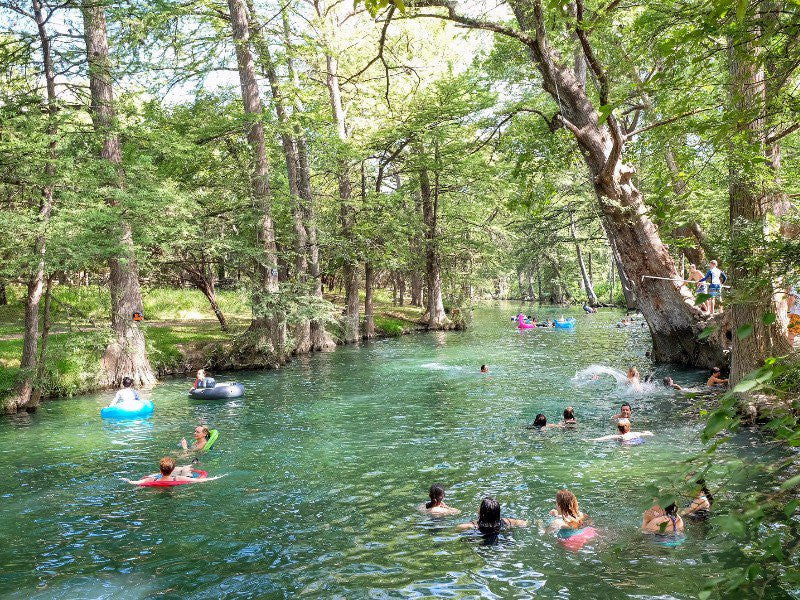 Take a Dip in Cypress Falls in Wimberley, Texas
Wimberley, Texas has many great attractions for summer travelers, such as antique shops, outdoor activities like zip lining and hiking, and a number of natural swimming holes. However one swimming hole in particular should be added to your summer to-do list, Cypress Falls. Now Blue Hole and Jacob's Well may be considered the most popular swimming spots in the town of Wimberley, but locals and tourists alike have been beating the heat at Cypress Falls for decades.
Photo Credit: jdeeringdavis
This natural swimming hole was created by a dam on Cypress Creek. The dam has created a small waterfall, hence the name Cypress Falls. Now it may be 100 degrees Fahrenheit in the hill country of Texas during the summer months, but Cypress Falls is spring fed so the water temperature remains cool. The creek itself is actually fed from the underground spring of Jacob's Well, so expect clear water and not much fluctuation in temperature throughout the year.
Unlike Wimberley's other main swimming holes, Cypress Falls isn't just a swimming area. Nearby visitors will find a cafe, which sells libations and barbecue, along with an 18-hole golf course and a 20-room lodge. Book a night at the Cypress Falls Lodge to make this spot into a weekend getaway. Some people truly fall in love with this gorgeous location, therefore weddings frequently occur near Cypress Falls at the Cypress Falls Lodge.
So Cypress Falls is actually located inside the Cypress Falls Event Center and Lodge. However you don't have to be a guest of the lodge to enjoy a soak here. For only $6, day passes grant you access to this pristine and clear swimming hole.
The swimming hole isn't the only thing that comes to mind when you mention "Cypress Falls" to locals. Cypress Falls and Cypress Creek are home to "Eagle Rock," an iconic limestone rock formation that was naturally carved by the creek itself. This area was actually once referred to simply as "Eagle Rock."
The next time you find yourself in the charming hill country town of Wimberley, make it a point to visit Cypress Falls for a refreshing swim in these spring-fed waters.  It makes for a great destination after a long morning of shopping in Wimberley square or a relaxing round of golf in the village of Woodcreek.
Cypress Falls Information:
Address: 1 Woodcreek Circle, Wimberley, Texas 78676
Phone Number: 512-847-6480
Fee: $6 wristband for day pass
---