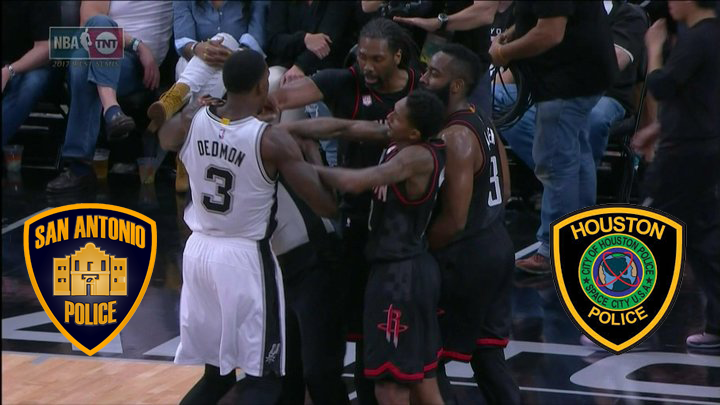 SPD Challenges HPD in Spurs vs Rockets Showdown
HOUSTON, Texas -- The San Antonio Police Department challenged the Houston Police Department publicly on Twitter to a friendly bet on the Rockets and Spurs game.
@houstonpolice @ArtAcevedo Are you up for the challenge HPD? We win, Chief A sports silver and black, you win Billy Mac wears Rocket red.

— SA Police Dept (@SATXPolice) May 2, 2017
Houston police not only accepted the challenge, but fired back with a confident prediction of victory.
(Cont'd Below)
It's on @SATXPolice! @HoustonRockets red is gonna look great on Chief Mac! https://t.co/Mx98Ui9oCR

— Houston Police (@houstonpolice) May 2, 2017
Even the Fort Bend County Sheriff's Office got in on the action.
@houstonpolice @SATXPolice @HoustonRockets Hope he likes red! #GoRockets

— FBCSO Texas (@FBCSO) May 2, 2017
The wager between HPD and San Antonio PD has inspired some other bets.

San Antonio Mayor Ivy R. Taylor said Houston Mayor Sylvester Turner has agreed to wear a Spurs black and silver t-shirt for one day if the Spurs win the series. Taylor agreed to wear Rockets gear if they should win.

Meanwhile, TxDOT Houston and TxDOT San Antonio are engaged in a lot of trash talk.
Hey @TxDOTHoustonPIO, the @HoustonRockets got lucky last night. Wanna make the #I10Rivalry interesting? #GoSpursGo  #DontMessWithKawhi

— TxDOT San Antonio (@TxDOTSanAntonio) May 2, 2017
Come on @TxDOTSanAntonio. No luck needed. Our @HoustonRockets are just that good. #RedNation #RunAsOne

— TxDOT- HOU District (@TxDOTHoustonPIO) May 2, 2017
@TxDOTHoustonPIO @HoustonRockets Sorry, all those @Spurs rings slowed our reply. Remember: Rockets won the first regular-season #I10Rivalry game, too. How'd that work out?

— TxDOT San Antonio (@TxDOTSanAntonio) May 2, 2017
Via ABC 13
---