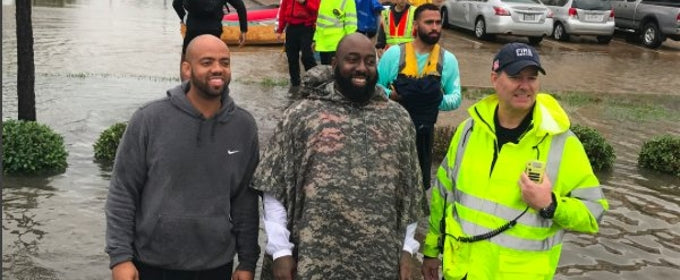 Social Media Goes in on Houston's 97.9 The Box Over a 7-Year Long Ban on Rapper Trae the Truth Despite Hurricane Harvey Relief Efforts
Beyoncé visited her hometown of #Houston, TX to provide some relief for residents who were affected by #HurricaneHarvey. One of the people who she passes out food with was Houston rapper #TraeThaTruth. He goes out of his way to do so much for his community, but he is over looked by local radio station #979TheBox.
The station, which is the biggest for hip hop and R&B, put a ban on the rapper's music back in 2010 after a shooting occurred at his annual #TraeDay event.
Back then when Na'Tae was on the show they (Na'Tae and Trae) had words because she blamed him for the shootings that occurred, since then they banned him from the show. It was proven that he wasn't connected to the shooting in any way, however, the station allegedly decided to boycott Trae and anyone who associated with him. Since then, they haven't played any of his music and don't celebrate any of the good things that he does for Houston. Trae later filed a lawsuit in retaliation.
As for the Hurricane Harvey relief he's done for the last two weeks, Trae has performed rescue missions, fed people and donated money, toiletries, clothes and other essentials. Despite what many onlookers believe, celebrities like #TI, #CharlamagneThaGod, #BunB's wife Angela Walls as well as Houston locals are not upset that Beyoncé has received tons of recognition for her efforts yesterday, rather they are disappointed that the radio station is choosing not to let go of a simple misunderstanding.
The ban has stifled Trae's career and Houstonians don't believe that it's fair to him. "Trae does so much for our community and its just not fair that his career can't reach the level of success we all want it to," one of our Roommates tells us.
To read more about the boycott against Trae and the lawsuit he filed in retaliation, click here.
Via The Shade Room
---