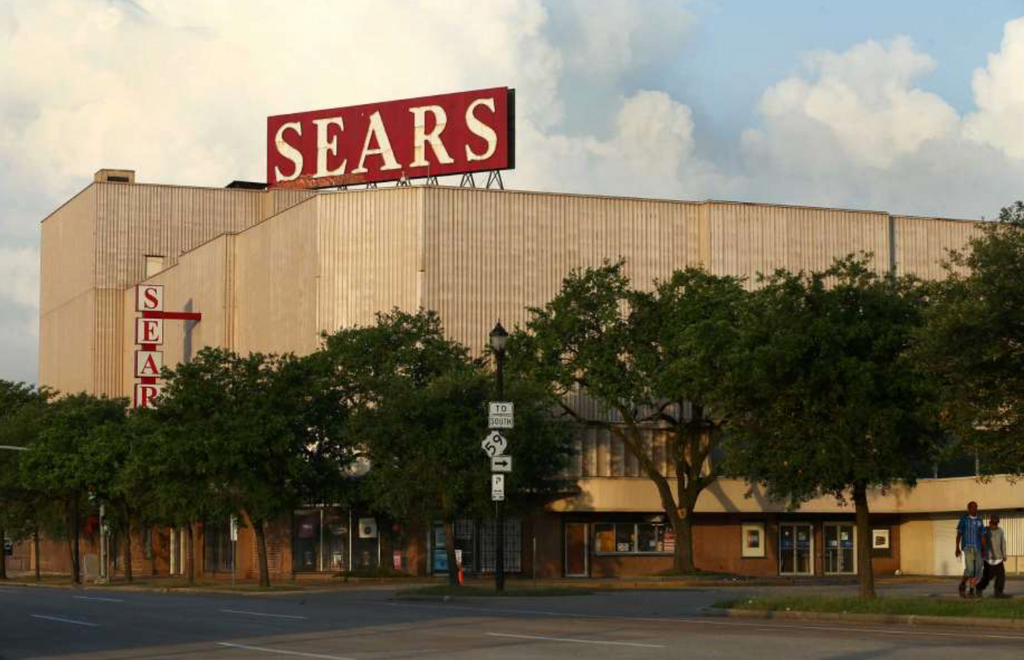 Sears to close iconic Midtown location
The upcoming holiday season will be the last one for the iconic Sears store in Midtown.
The building at 4201 Main will close in late January. A liquidation sale will start Nov. 10. 
The closure is part of Sears' plan to close hundreds of locations nationwide. The company closed about 180 stores this year, and it expects to add an additional 150 to that list by the end of the third quarter. 
"This is not an effort solely aimed at cost savings but is part of a strategy we have been executing against as many of our larger stores are too big for our needs," spokesman Howard Riefs said in a statement.
The company, more than a century old, has for years downsized its store chain amid a seismic shift in the retail industry. Online sales have skyrocketed, challenging traditional retailers like Sears to improve the in-store experience, invest in their websites and distribution channels and close lower-performing locations.
Saddled with debt, the company also sold its Craftsman tool brand to Stanley Black & Decker in March for about $900 million. It is exploring other options for its Kenmore and Diehard brands.
The Midtown building a stark example of the retailer's decline. The art-deco-style building opened in 1939 as a modern, air-conditioned shopping mecca covered with murals depicting decades of Texas history. 
The store lost foot traffic as the city's shopping district moved south. Sears shrouded the original facade with corrugated metal in an attempt to modernize the building in the 1960s, and many of the original murals have been covered.
Rice Management Co., which is responsible for Rice University's endowment, has owned the six-acre parcel for more than 75 years. In 1945, it leased the land to Sears under a 99-year agreement.
Last week, Rice Management Co. bought out the remaining 28 years of Sears' lease and acquired about three contiguous acres owned by Sears.
Rice now owns 9.4 acres, including the original department store, its parking lots and the Sears Automotive Center on Eagle Street between Fannin and San Jacinto.
Now that Rice has control of the property it will begin studying options.
"Removing the long-term lease obligation from Rice's Midtown property will allow the university to initiate a process of thoughtful planning for the future use of this land," Rice President David Leebron said in a statement.
"The Rice Management Company will initiate a yearlong study to consider options that contribute to the ongoing revitalization of the surrounding community as well as the city's broader economic strength. In this process, we'll consult with many actors and experts, including the Urban Land Institute, city officials and our own Kinder Institute for Urban Research.
"This is another dimension of Rice's enthusiastic engagement with the city of Houston, while at the same time assuring a return to the university's endowment in support of our missions of education, research and community service."
The real estate is one of Rice's high-profile Houston properties, which include the Rice Village shopping center. That center was managed by Weingarten Realty Investors until 2014 when Rice bought out Weingarten's ground lease for a figure estimated at between $55 million and $60 million.
Rice also leases land to Fiesta Mart at 4200 San Jacinto. Fiesta has two more years left on its lease.
---