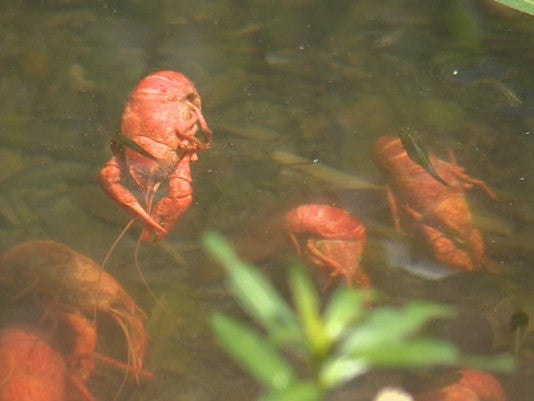 Neighbors "Boiling" Mad About Cooked Crawfish Dumped in Creek
One Houston neighborhood is "boiling" mad after someone dumped a bunch of leftover crawfish into a creek.
It happened Sunday in the Oak Forest area along Rosslyn Road near Bethlehem Street.
"It's just garbage," said neighbor Scott Szabo.
Crawfish and other food dumped into the creek has resulted in a soupy mess.
"It's rotting food waste," said Szabo.
Szabo shared with us his concerns from atop what neighbors call "turtle bridge."
"These critters don't eat corn on the cob, they don't eat onions, they don't eat lemons, they don't eat dead carcasses of other animals like this," said Szabo.
We're told two men parked on the bridge Sunday evening, removed a cooler, and emptied the contents right into the water.
Neighbor Jason Cothren saw it.
(Cont'd Below)
"Why are they dumping this in here and not in the trash at home?" said Cothren.
He says the men may have had good intentions.
"I think they were trying to feed some turtles," said Cothren. "However, probably not the correct, A, food and, B, method for making it happen."
We checked with a local ecologist who confirms cooked food could negatively impact wildlife.
It's likely illegal dumping, at the very least.
The City of Houston is aware and looking into it.
"It's just a lot of rotting material in one location," said Cothren. "And we need to be more self-responsible and not pollute in our own backyard," said Szabo.
Neighbors would like to see the men who dumped the food come back and clean it up.
They believe they probably live nearby.
Via Jason Miles , KHOU
---