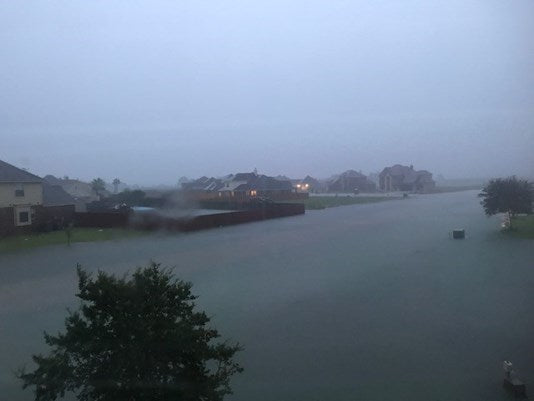 Mom Dies Saving Her Infant Daughter During Harvey Flooding
A Texas mom died Tuesday while saving her infant daughter during Hurricane Harvey flooding in Beaumont, Texas, according to authorities.
Beaumont Police said the woman, who was not identified, was spotted by authorities floating in a canal with the small child in Beaumont, which is almost two hours from Houston.
"The child was holding on to her mother," the statement said. "The first responders got to the mother and child just before they went under a trestle."
According to authorities, the woman and her infant daughter were driving on a service road when they got stuck in high water. The mother pulled the car over and exited the vehicle with her child. Authorities said she was swept into the canal and floated about a half mile from her vehicle.
Two Beaumont Police and fire rescue divers in a boat spotted her and were able to grab the mother and child before they went under the trestle. 
The mother was unresponsive, and the child appeared to be suffering from hypothermia, according to the statement. A bystander helped rescue officials load the mother and daughter into his truck, and they were transported to an ambulance.
The 41-year-old mother "absolutely saved the child's life," Officer Carol Riley, a spokeswoman for the Beaumont Police Department, told People.
"They were in the water for quite some time," Riley says. "When the baby was found the baby was clinging to her. The mother did the best she could to keep her child up over the water."
"The baby also had a backpack that was helping her float on her back, and she was holding on to her mom," Riley told People.
The mother later died, but the child is in stable condition, according to the Beaumont Police statement. 
Via Mary Bowerman, USA TODAY , KBMT , KHOU
---