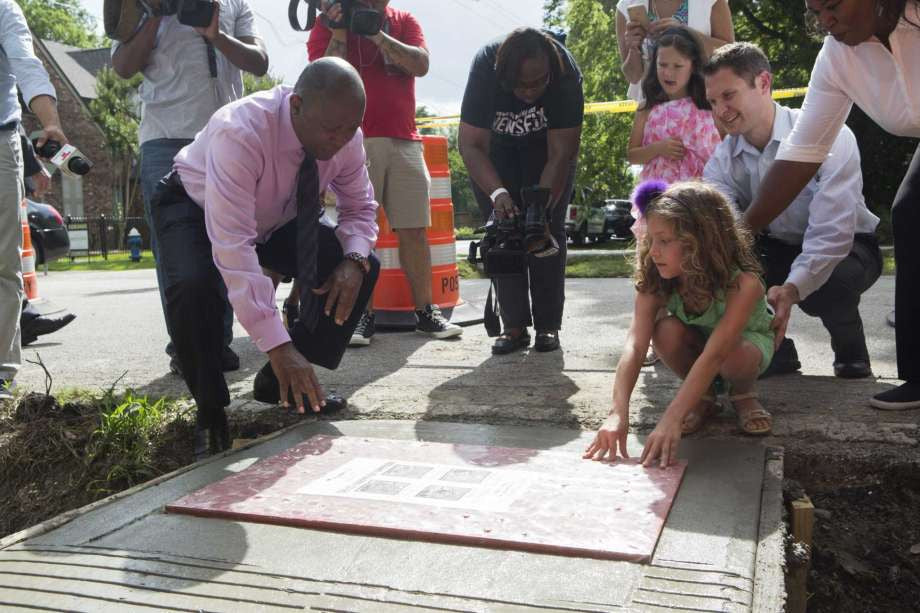 Mayor visits Heights second grader who asked him to fix her sidewalk
Sophie Blitz likes to ride her bike along Courtland Street where she lives, a tree-lined street with spacious Victorian homes. But when a portion of the sidewalk became too damaged for her to ride her bike over, she went to the top to get it fixed.
The Harvard Elementary second-grader wrote a straight-forward letter to Mayor Sylvester Turner in March asking him to fix it for her and in exchange she would treat him to one of her favorite treats at Gelazzo, the hand-crafted gelato joint on White Oak Drive.
After a few more letters were exchanged, including one where Mayor Turner said he wouldn't be able to come meet her, Turner paid Sophie and her family a visit Friday to take her up on the offer.
The Mayor arrived at the family's home where Sophie, her 5-year-old sister Annie and her parents Dawn and Mitch Blitz, greeted him with homemade cards and gifts. At the same time, one block away on 5th Street crews were finishing the final cement smoothing on the repaired sidewalk Sophie requested.
The stretch of sidewalk on both sides of Cortland near 5th were unfinished and Dawn Blitz worried every time her daughter veered into the street on her bicycle to avoid the bumpy ride.
Sophie asked her parents if they could pay to have it fixed. They explained to her that the city is responsible for the streets and sidewalks. Well, then who's in charge of the city, she asked her mother.
Dawn said the letter was Sophie's idea.
"If you come visit my house to see the problem sidewalk my mom says she will give me money to take you to get gelato," read Sophie's letter. "We can walk or ride our bikes there from our house. If you want to ride your bike, bring your bike. Do you have a bike?"
Before signing her name she included that Tuesdays and Thursdays are not good for her because she has swim lessons, and "No Wednesdays because my sister has piano lessons."
Dawn said she wasn't surprised when the Mayor's office responded a few weeks later letting her know that they would look into the matter.
"It was such a sweet letter from a child, I was not terribly surprised he wrote back," said Dawn. "I'm so proud of my daughter."
By early April, crews were on site repairing the cement.
After a short visit in the family's home, the group embarked on an afternoon walk toward the fresh sidewalk. On the way, they passed Michele Jovanelly's home who was outside with her two small sons. Michele told the boys to meet Sophie's new friend.
(Cont'd Below)
"This is the Mayor," said Sophie to the children. The family joined the procession to the sidewalk where Sophie and the Mayor, together on hands and knees, laid down the bumpy overlay used to alert blind and disabled people that the sidewalk is ending.
"This is a very persuasive constituent," said Turner to media and onlookers. "You can be young and you can have an impact. Now we need to work on fixing a lot of other sidewalks for other people."
"I'm really, really, happy it got fixed," said Sophie.
Jovanelly called Sophie, "Our official Cortland politician."
At Gelazzo, the Blitz family are familiar faces to owners Leigh Rubino and Louie Comella. After Sophie secured her double-scoop chocolate ice cream and Annie her raspberry, they flanked Turner in the rescued Astros seats under the glitzy Gelazzo sign and enjoyed the frozen treat.
Fair Use Source: Jaimy Jones with Chron.com
Photos: Marie D. De Jesus
---