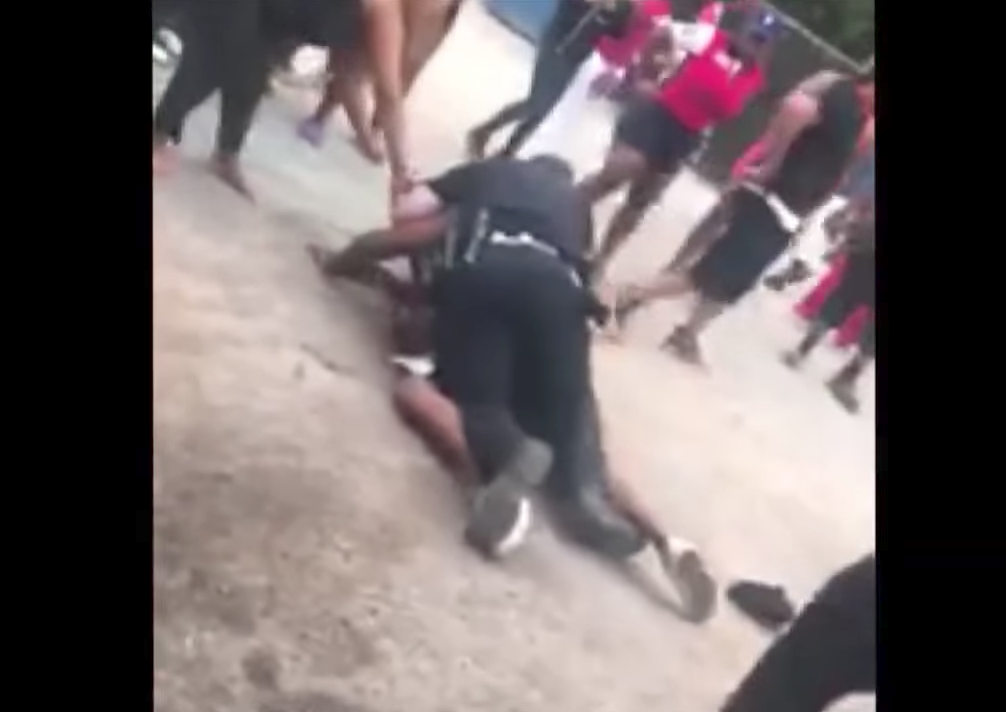 Houston Police Fight with Huge Crowd at Sunnyside Apt Complex on Video
HOUSTON (FOX 26) - It was pretty heated by the time the cameras came out. Two HPD officers struggling to arrest two men while the crowd gets angrier and angrier.  At one point, you see one of the officers drag one of the handcuffed men. That man is Ellen Jones' cousin.
"All of that was uncalled for. If you know your procedures. Dragging somebody in handcuffs. You are hitting this dude with a taser 4-5 times. No," Ellen Jones said.
This happened Saturday evening at an apartment complex on Selinsky. Police had pursued two men into the  apartment complex and kicked over a hornet's nest.   Community activist Quanell X  actually has some praise for how the officers handled part of the situation, especially when a woman grabs an arresting officer's arm.
It was a tense, emotionally charged situation with the outnumbered police struggling to control the situation and call for back up. But Quanell X's praise quickly turns to condemnation when police find a gun on on of the men.
(Video Below)
"Then what shows reckless incompetent conduct by law enforcement, they find a gun. The cop discharged the clip out of the gun, kicks the gun under the car. Somebody takes the gun and the clip and they never capture the gun," Quanell says.
But in our video, all we see is a pistol magazine lying on the ground during the struggle, then someone from the crowd grabbing that magazine and running off with it.  But Quanell says another video shot after backup arrives shows something even worse -- an officer pointing an assault rifle at the crowd.
"There is no guns being displayed. No one has any guns displayed, and this pointing a gun at the crowd because the crowd is yelling and the crowd is screaming, so he takes an assault rifle and start pointing it at the crowd to get back? That's crazy as hell," Quannell said.
In the video we shot off a witness's cell phone, we do indeed see an a back up officer displaying an AR-15.
(Cont'd Below)
We see him motion to the crowd with his hand, but the gun stays pointed at the ground. Did he ever point at the crowd? We don't know. All we know is what we see in the video. Quanell has seen at least one video we have not. But we do know this -- this incident did little to improve relations between the police and the people in this apartment complex
An HPD spokesperson says they have seen none of the videos and couldn't comment directly on this incident. However he says  if anyone has any issues with this or any other incident, they can file an internal affairs complaint.  He says investigators will look into it, including looking at any cell phone videos.
Via Fox 26 Houston
---