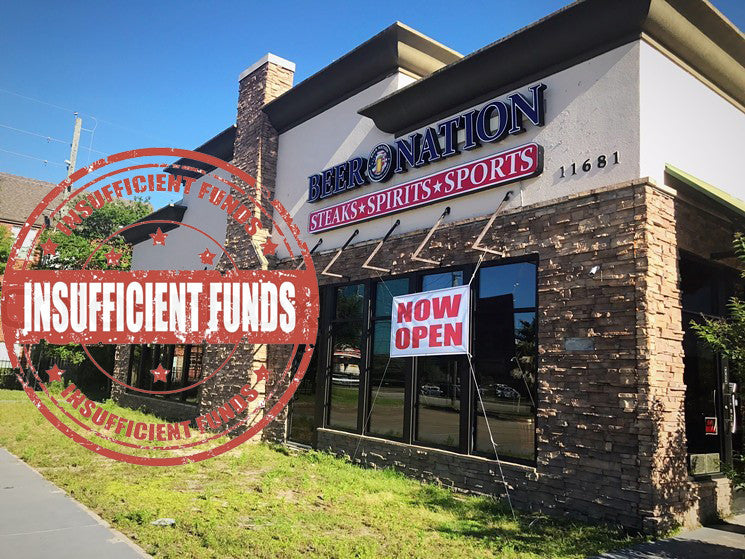 Houston Bar: Beer Nation Refusing to Pay Multiple Employees
HOUSTON - Several workers at Beer Nation, a new restaurant located in the 11600 block of Westheimer Road, say they haven't been paid since May 8.
"We got one check," said Terence Thomas, who has worked at Beer Nation since it opened a little more than a month ago. "After that, no checks."
"I got a call from the people I bank with and they told me that the check I deposited had bounced," said Briana Wilson, another worker. She had a copy of the returned check and a notice from her bank.
"May 8 was over a month ago." Wilson said. "That's why I'm reaching out. Something needs to be done. It's not right."
Larry Kakos, the general manager of Beer Nation, told KPRC 2 over the phone this is a brand-new company and the first restaurant its owners have owned.
The owner, Scott Hait, is based in Michigan, he said.
Scott Hait of Michigan formed Jumpers/Pin Ups and another Indiana entity called Koozies Bar and Grill in August 2015. Hait and one of his companies, Ripped T Shirt, LLC, were sued in February 2016 by Jumpers/Pin Ups' landlord. Although Indiana court records show that the parties reached an agreed settlement in February 2017, Hait's attorney for the Indiana litigation, Michael Michmerhuizen, told the Houston Press he couldn't comment because the case was still pending.
Hait did not respond to multiple requests for comment. His attorney in Houston, Trent Stephenson, asked the Press to email questions, but would only answer one question, confirming that Hait is Beer Nation's sole owner.
Ripped T Shirt and other Hait-controlled entities were among a host of co-defendants in an October 2016 lawsuit filed by a court-appointed receiver in Michigan, according to state and federal court records. Hait was accused of conspiring with others in an alleged money-laundering scheme in which the co-defendants created shell companies to hide money from creditors. As part of a March 2017 agreed settlement, Hait and his co-defendants agreed to pay $200,000 to the receiver.
It's unclear how Kakos, also from Michigan, was tapped to manage Beer Nation — beyond identifying himself as a "directing manager" for Hait, Kakos did not respond to requests for comment. But his social media pages, as well as court records, show that he formerly managed strip clubs in Michigan. (On a related note, Beer Nation's site states that it's "nice" if applicants for a waitress position have a "great body.")
It's also unclear how this cash-flow problem will affect the restaurant's plans to open a 10,000-square-foot concert hall on the same property. Kakos told Presscontributor Cuc Lam in April that the space, with a 500-person capacity, was projected to open within 90-180 days.
"We want to bring bands like Puddle of Mudd and Sponge here," Kakos said then. We've got our fingers crossed.
Curious about general manager Larry Kakos' claim that the joint was the first restaurant its unnamed Michigan-based owners ran?
Besides being a weird excuse, it's the kind of thing that could be easily verified, and as it turns out, the man behind Beer Nation owned a restaurant called Jumpers Bar & Grill in Noblesville, Indiana, which was briefly rechristened as Pin Ups Sports Bar & Grill before it shuttered in November 2016. (According to a comment posted on the pub's Facebook page, bounced checks were a problem there as well).
Kakos said there were problems with some of the checks, duplicate checks and incorrect Social Security numbers. Turns out they is just not paying people.
Right now, the owners owe thousands of dollars to employees in back wages, he said.
"Everybody works and everybody wants to get paid," said Thomas.
"For them to just do their employees like that is crazy," said Wilson.
One of the Head Chefs, Jordan Parker, has told us there is a huge list of employees and contractors that have not been paid. Many have quit. 
 Via Houston Press & Click 2 Houston
---