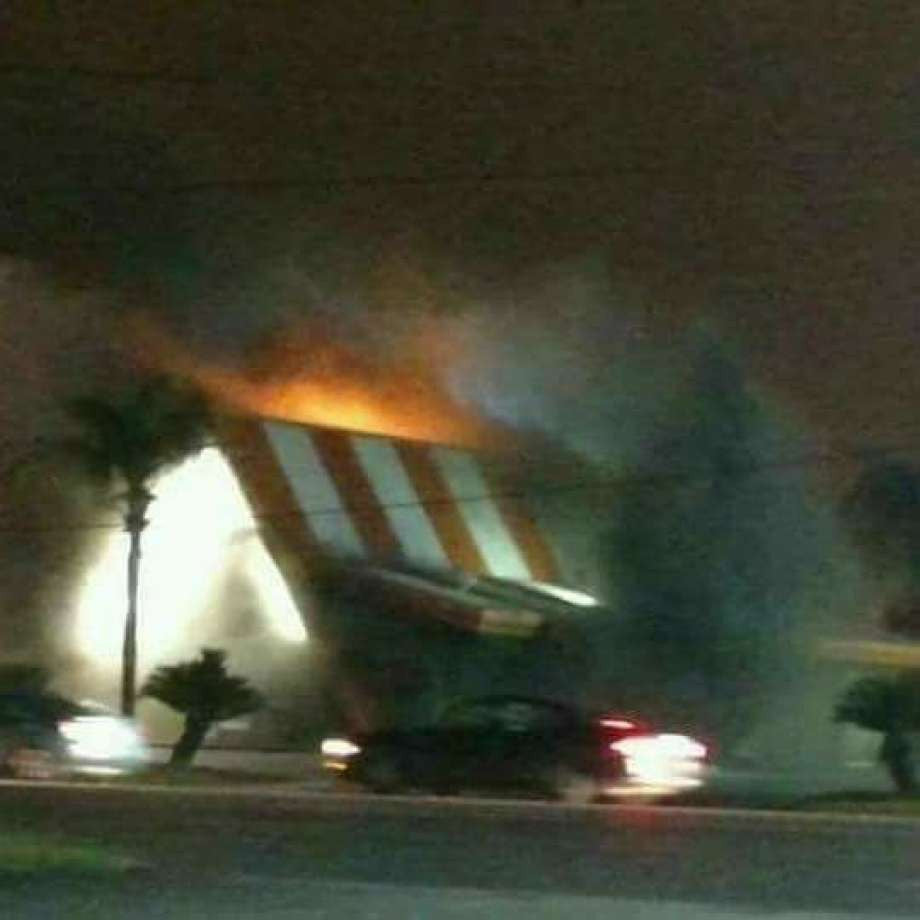 Houston-Area Community Mourns It's Burning Whataburger
A lot of folks in the Liberty-Dayton area are making other meal plans after a fire destroyed the Whataburger restaurant on the 1900 block of US 90 in Liberty around 5 a.m. Wednesday.
"It's a total loss," said Liberty Assistant Fire Chief Steven Grimm.
No injuries were reported, Grimm said, adding that when firefighters arrived, all employees and customers had exited the restaurant.
Photo: Tatiana Maddox
"It took us a couple of hours to get the fire extinguished. We had some issues getting access to the roof but we had the fire under control in about 45 minutes," Grimm said.
According to Grimm, the employees were not immediately aware of the fire in the attic.
"Someone in the drive-thru told the employees the building was on fire," he said.
The cause of the fire is unknown at this time but it is suspected of being electrical in nature, Grimm said. The city's fire marshal will make the final ruling.
Fans of the popular eatery took to Facebook to share their grief.
Jennifer Regen posted, "This is a tragedy! Thomas Dunagan and I are going to starve, finally have a ton of money in our savings account, lose a ton of weight, and/or have to learn to cook. I eat at Whataburger about three times a week for lunch, and we eat there a minimum three times a week for dinner."
Another person called the restaurant "a good friend," and said he was thankful for the good times and even for the extra pounds it put on him.
Liberty attorney Keith Strahan offered a legal perspective of the fire in his Facebook post.
"If someone burned down Liberty Whataburger, they'll have to move the trial to another county. No way he/she makes it out of Liberty alive," he quipped.
Photo: David Taylor
The Liberty Whataburger is part of the BurgerWorks Texas LLC franchise. The franchise president, William Tamminga, issued the following statement about the fire:  "We are relieved no one was injured in the fire, and we're currently working to determine the cause and extent of the damage. Once we have more details, we'll get to work either repairing or rebuilding the restaurant. We are so grateful to the Liberty Fire Department for their brave efforts and appreciate all our Liberty customers for their support during this time."
Via Vanesa Brashier with Chron.com
---