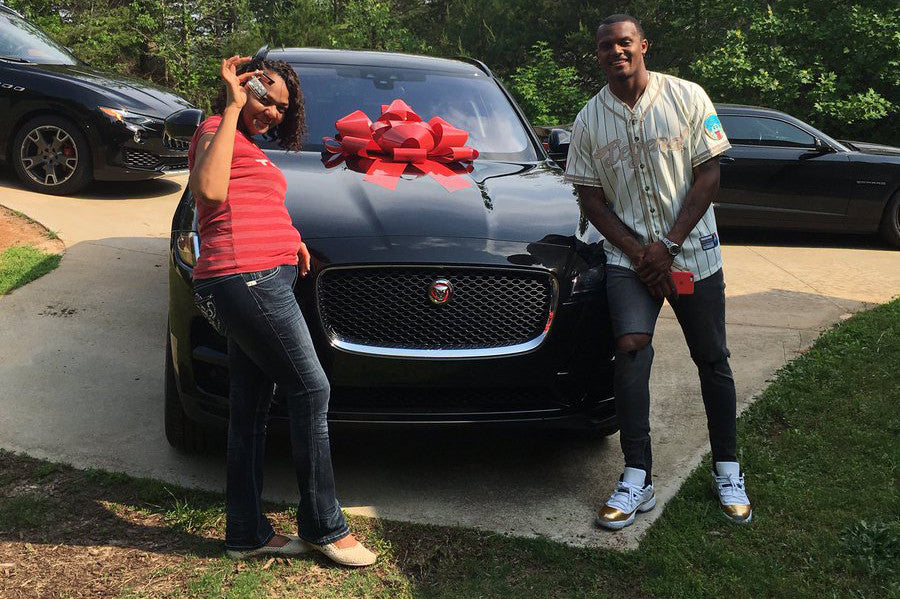 Happy Birthday Mama Watson! Deshaun Buys His Mother Her "First Official Car"
There is the old cliché and a line that goes, "Mama, loving you is like food to my soul."

Yes, it is.

For the Texans first-round draft pick Deshaun Watson, his mother, Deann, has been one of his biggest supporters in life.

"I just do what a mother's supposed to do," Deann told ESPN. "That's love their children and support them in whatever they do."

On Saturday, Deshaun did what a son is supposed to do: return the love.

"Happy birthday Mama! I love you and you deserve your first official car! Enjoy it! Had to cop her the '17 Jag," he wrote on Twitter.
Happy Birthday Mama! I love you & you deserve your first official car! Enjoy it! "Had to cop her the '17 Jag" 💯🤘🏾 pic.twitter.com/gVE2wzzh6k

— Deshaun Watson (@DeshaunWatson4) April 29, 2017
Deann was diagnosed with tongue cancer when Deshaun was in high school. Her diagnosis required doctors to surgically remove her tongue.

Even through her battles, Deann found a way to provide for her family. Deshaun was brought to tears shortly after the draft while reading a letter from her.
Incredible moment.@DeshaunWatson4 is brought to tears as he reads a letter from his mom. #NFLDraft pic.twitter.com/8Z0QMTfuxT

— NFL (@NFL) April 28, 2017
"My mom, she's my rock," Deshaun said on Friday. "She's the one that raised me. Single-parent mom of four kids and the struggles that we went through, it was tough. My whole family plays a big part of my support cast, and it's just been awesome to have them in my life."
Via ABC 13
---