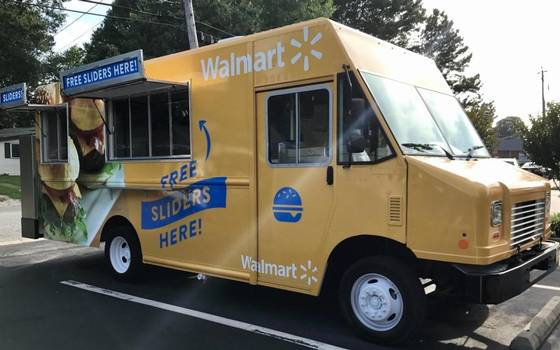 Free food! Walmart Sending Food Trucks to Hand Out Food Across Area
To help those in need after Hurricane Harvey, Walmart is sending food trucks across the area to hand out free tacos, burgers and ice cream.

The locations are listed below:

Monday, Sept. 11
The Woodlands Township and Patriot Day of Remembrance and First Responders Day
2099 Lake Robbins Dr.
The Woodlands, TX 77380
4-7 p.m.

Tuesday, Sept. 12
Woodlands Fire Dept
9951 Grogans Mill Rd.
Spring, TX 77380
11-3 p.m.

Wednesday, Sept. 13
Church at Creeks End

20010 Kuykendahl Rd.
Spring, TX 77379
11AM-3 p.m.

Thursday, Sept. 14
Pathways Church
20802 Rhodes Road
Spring, TX 77388
11AM-3 p.m.

Friday, Sept. 15
Chamber of Commerce
6902 Farm to Market 2920 Ste. 1
Spring, TX 77379

12-4 p.m.

Saturday, Sept. 16
Walmart Store #351
25800 Kuykendahl Rd.
Tomball, TX 77375
1-5 p.m.

Sunday, Sept. 17
Walmart Store #5959
111 Yale Street
Houston, TX 77007
1-5 p.m.
Via ABC 13
---