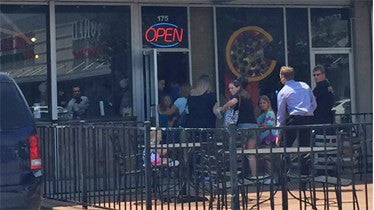 Community Rallies Around Houston Dad Struggling to Pay for 3 Sons' Insulin
HOUSTON (KHOU) - The story about a single Houston dad struggling to pay for his three sons' insulin has touched hearts all over the country. 
Business had been slow at Craig Boncler's northwest Harris County restaurant in recent months, but not Thursday. People were already lined up outside when Sicily Pizza and Pasta opened for lunch. 
"I figured maybe I'd get a handful of orders from my friends around here telling people, 'Hey, call him up, place an order," Boncler said. "I don't know how to deal with it right now and processing it all."
Boncler first shared the story of his struggling pizza business on his own Facebook page Tuesday.
"I hate doing this... I'm in a lot of trouble. Due to various reasons … my restaurant is in a downward spiral," he wrote. 
Photo: KHOU - Craig Boncler with his sons: Michael, Timothy and Christopher 
He wrote that he hadn't been able to cash a paycheck in more than two months and was in danger of losing his house and car. But it was the part about not being able to afford insulin for his boys that made the story go viral when we shared it Wednesday night. 
"It's just been really tough. When my youngest was diagnosed a couple weeks ago, I didn't know how I was going to manage," Boncler said. 
Tens of thousands of people clicked on the story and more than 11,000 had shared it by Thursday morning. People all over the country were offering words of encouragement and advice. And Houstonians were suddenly craving Sicily's pizza. 
All three of Boncler's sons  -- Michael, 16, Christopher, 12, and 10-year-old Timothy --  need insulin daily. His copay for the insulin alone is more than $200 a month. 
Boncler never asked for money -- just that people support his business. But after so many KHOU 11 Facebook followers asked about making donations, friends sat up a caringfund.com page.
"I just never thought something like this would happen, Boncler said. "I've been struggling with this alone for three years."
If you'd like to check it out, Sicily Pizza and Pasta is located at 13147 Northwest Freeway. 
"We hope some of these people will understand we're overwhelmed with the business right now. But we're here, hopefully now here to stay," Boncler said. "Come back next week, Come back the week after. I can't ask everybody to donate every month to help pay my bills. If you'll come back and order food once in a while, we'll be here. Support local businesses."
---