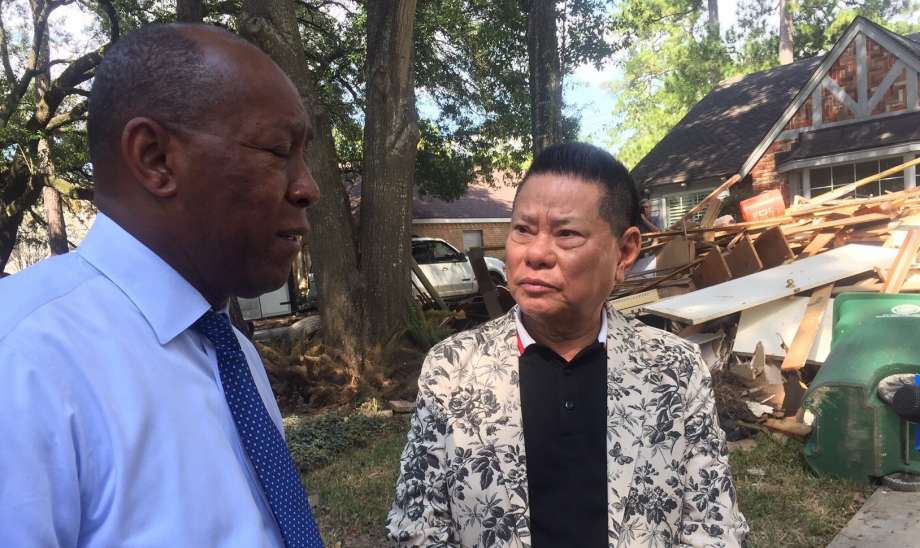 Billionaire Gives Big $5m to Harvey Relief Fund
A Vietnamese immigrant and billionaire has donated $5 million to help Houston recover from Tropical Storm Harvey.
Kieu Hoang, the founder of California-based Rare Antibody Antigen Supply, announced the donation at a Monday news conference with Houston Mayor Sylvester Turner.
Turner said the donation would help transition Houston's most vulnerable populations - seniors, people with special needs and low-income communities, he said - into more permanent housing.
The mayor said it would cost about $9 million to assist the roughly 1,200 taking refuge at the George R. Brown Convention Center alone, an effort for which he's asked the American Red Cross to contribute $2 million. On Monday he recommended people donate to the Greater Houston Community Foundation, which he said will meet needs not met by the Federal Emergency Management Agency.
"This is not a two-week effort and done," he said. "This is more long-term, and a lot of the people that are in our shelters now will be the most difficult to house."
Flanked by piles of debris from west Houston homes destroyed by flooding, Hoang also spoke at length about immigration and his own journey from making $1.25 an hour to founding a company worth roughly $14 billion.
"Dr. Martin Luther King said 'I have a dream,' " Hoang said. "Thanks to the American people's help, I have realized some small dreams. … A dream to have immigration laws so that a lot of people do not live in constant fear of being deported. A dream to allow immigrants like me to come into this great America to make it greater, and the greatest.
"Did you realize a lot of Houstonians dared not to check into shelter centers for help, as they are scared to be discovered and deported?
"God help America (to) help them."
"For Houston, who will help rebuild the city?"
Hoang's $5 million is one of the largest personal donations to the city, and adds to the growing number of donations from business leaders, athletes and actors in the wake of the storm.
Les Alexander, the outgoing owner of the Houston Rockets, has pledged $10 million.
A fundraiser spearheaded by Houston Texans defensive end J.J. Watt topped $30 million last week thanks to donations from, among others, H-E-B chairman and CEO Charles Butt, who pledged a personal $5 million donation.
President Donald Trump last week announced 12 charities that will split a personal, $1 million donation from him and his wife, Melania.
Actors Leonardo DiCaprio and Sandra Bullock have each donated $1 million, and Houston native Beyoncé Knowles is using her foundation to raise money for relief efforts.
Via Houston Chron
---