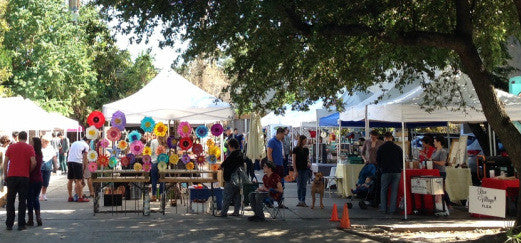 9 Amazing Flea Markets In Texas You Absolutely Have To Visit
Shopping doesn't have to be fancy. You can find exactly what you're looking for (and everything you didn't know you needed) at these 9 amazing flea markets in Texas.
1. Bussey's Flea Market (Schertz)
Not only is this one of the largest flea markets in Texas, but it's also one of the largest in the entire country. With over 500 vendors selling various items from handmade dream catchers to retro knick-knacks, everyone is guaranteed to find a treasure to take home. Plus, there are tons of food and beverage stands to keep you fueled up for a long day of shopping! The address is 18738 I-35 N, Schertz, TX 78154.
2. Rice Village Flea (Houston)
Not exactly the place you'd expect to find a flea market, this uptown-Houston bazaar of sorts has modern art, clothing, jewelry, and everything in between. It's located at 5505 Morningside Dr, Houston, TX 77005
3. First Monday Trade Days (Canton)
Drawing over 400,000 people from all over the country some months, this century-old flea market is THE biggest in America. It may take a while considering its size, but you're bound to find a diamond in the rough if you search hard enough. It's open Thursday-Sunday before the first Monday of every month and can be found at 800 Flea Market Rd, Canton, TX 75103
4. Pasadena Indoor Flea Market (Pasadena)
This is a great market for the (very frequent) rainy days we have here in Southeast Texas since it's indoors. You'll find over 100 booths selling Western clothing, jewelry, antique knick-knacks, and more to peruse every Friday-Sunday from 10am to 7pm. The address is 2222 Spencer Hwy, Pasadena, TX 77504
(Cont'd Below)
5. Alamo Marketplace (San Antonio)
The largest indoor flea market in San Antonio, this giant warehouse is full of hundreds of vendors offering their wares. It's an absolutely enormous space, so there's plenty of opportunity to find cheap, unique items. It's located at 7171 W US Hwy 90, San Antonio, TX 78227
6. Traders Village (Houston, San Antonio, Dallas/Fort Worth)
More than just a flea market, this amusement park/concert arena/marketplace is full of everything you need to enjoy yourself to the fullest. Even better, it has three different locations, so you have several options depending on where you live.
7. Austin Country Flea Market (Austin)
This enormous flea market was rated the eighth best in the world by the Travel Channel. With over 300 booths, food, and live music, you'll find everything you need and more at 9500 US-290, Austin, TX 78724.
8. Sunny Flea Market (Houston)
Sunny Flea Market is best known for its plethora of delicious Hispanic food vendors. It also boasts over 1,000 unique sellers with new ones added weekly. Experience the festivities from 8am to 7pm on weekends. The address is 8705 Airline Dr, Houston, TX 77037.
9. Larry's Old Time Trade Days (Winnie)
The largest flea market in Southeast Texas, there are over 500 vendors here selling antiques, collectibles, clothes, and almost anything else you could possibly think of. It's open every Friday-Sunday following the first Monday of the month from 8am-5pm. The address is 14902 FM 1663 Rd, Winnie, TX 77665.
Have you been to any of these flea markets? Which one is your favorite?
Via Katie Lawrence with Only in Texas
---