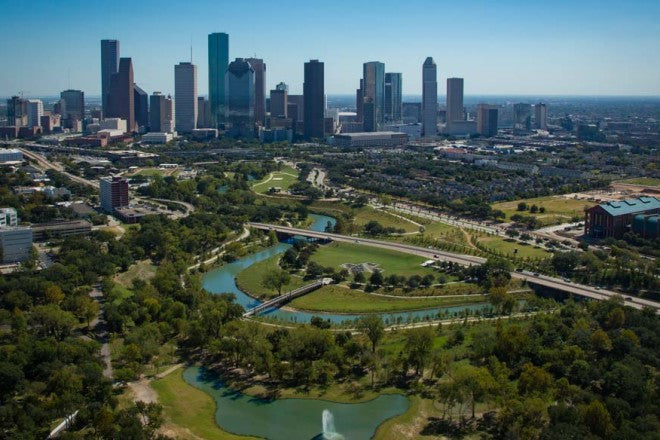 7 Reasons to 'Do' Houston this Year
Here are the reasons you'll want to discover one of America's greatest cities, Houston, this year – home not only to NASA's iconic Space Center, but also to theatre, exquisite museums and hearty dining options. 
1. The award-winning restaurant scene is going off
There's more to food in Houston than just its hearty barbecue fare, although it has to be said that it is pretty darn good; check out Jackson Street BBQ in Downtown Houston, Killen's Barbecue in South Houston or Gatlin's BBQ to name but a few.
The restaurant scene here is booming, with a list of award-winning eateries that stretches on forever, from Hall of Fame chefs to Restaurant of the Year recipients to those serving up some of the 100 Things You Simply Must Eat Before You Die (Garden & Gun magazine). You will literally be spoilt for choice: there are currently around 10,000 restaurants to choose from!
2. Everywhere you look there's great art (literally)
Houston has hundreds of museums and galleries scattered around the city bursting at the seams with world-class art: visit The Museum of Fine Arts, Houston for old masters, G Gallery and Redbud Gallery for hip local up-and-comers, Rothko Chapel for Mark Rothko's murals, and the Menil Collection's arresting Dan Flavin Installation at Richmond Hall.
There's so much art in fact that all you have to do is walk down the street to see it, with large scale murals adorning walls all over the city.
3. It has its own rodeo, and it's huge
In addition to the obligatory cowboys, bulls and bucking broncos, the three-week Houston Livestock Show & Rodeo (this year from March 7-26) ropes in some serious superstar entertainment; this year's roster includes Alicia Keys, Chainsmokers, Willie Nelson and ZZ Top.
4. The theatre scene here rivals New York City's
Houston's theatre district is second only to New York's in the entire country, with everything from ballet to opera to music to plays to touring Broadway and West End productions on offer.
5. It's totally kid (and budget) friendly
Where to start? Crazy-fun museums like the Children's Museum of Houston, the Houston Museum of Natural Science and The Health Museum; the awesome attractions of Space Center Houston; or 'nose-to-nose' with the locals at Houston Zoo.
You can make the fun budget friendly as well: consider buying a Houston CityPASS for big savings on entry prices. And if you are in town in May, check out Comicpalooza, the biggest pop culture festival in the state.
6. You can shop just about non-stop
From chic designer brands to local artisan wares to funky vintage to cowboy boots, it's all here for the taking (or the buying). For easy access stay Downtown or near Galleria, with its 400-plus shops, ice rink and headliner department stores.
7. There's more green space than you might think
Houstonians love the outdoors, and there is lots of it to love here, from the 180-hectare Hermann Park right in the middle of the city to loads of downtown green spaces to the sprawling Armand Bayou Nature Center reserve, complete with alligators, deer and bison!
Fair Use Source: International Traveller in partnership with Visit Houston
---