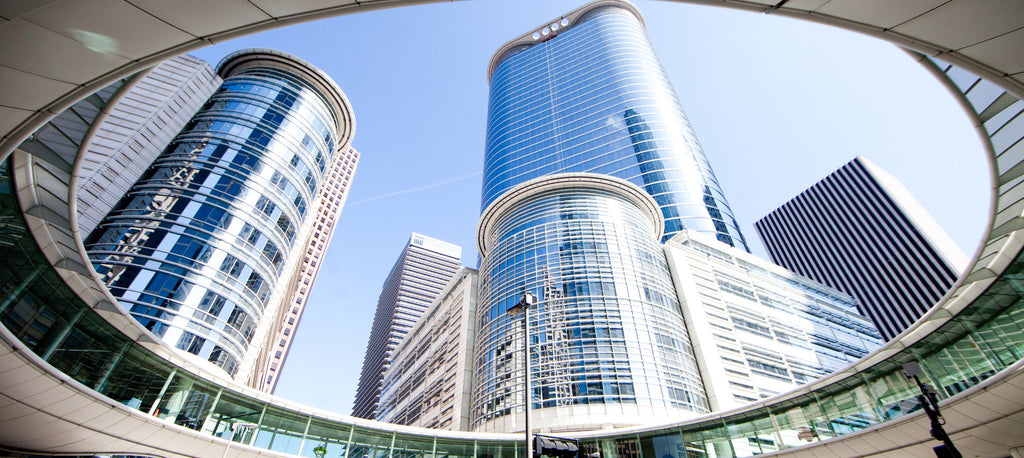 45 THINGS TO DO IN HOUSTON FOR $10 OR LESS
With a city that's on the up and up like Houston, you might be afraid the time has come to wave goodbye to stuff like cheap housing and taking a date to movie that doesn't involve table-service wine and a personal reclining leather pod. But we're here to remind you that you can still get by quite nicely with that $10 bill you found in your dryer. Take that Hamilton to any of these choice locales for some proper budget-friendly fun.
Needville
Price: $7
Seven dollars will get you into the 5,000 acre park, where you'll find ample opportunity to bike, fish, hike, bird-watch, camp, and stargaze. You'll also find a fair amount of alligators. You've been warned. Note: check for flooding closures before you make the drive.
2. Go to the Dark Side of the Moon at the HMNS's Planetarium
Museum District
Price: $9
The Planetarium's Pink Floyd-inspired laser-lights show is way cooler than staring at your friend's lava lamp.
(Cont'd Below)
Lazybrook
Price: $10
These karts boast a 9-HP Honda GX-270 engine, so this is guaranteed to be one of the fastest five minutes of your life (besides that one time at band camp). Ten bucks gets you one ride, but look out for coupons and discount days.
4. Conquer Steak Night at Saint Dane's
Midtown
Price: $10
Monday nights mean $10 ribeyes (plus two sides) in the front and poker in the back.
5. Jump, jump! at Sky Zone
Spring (& Missouri City)
Price: $10
Great news! There's no age limit at this indoor trampoline playground. Just $10 will get you a 30-minute jump, which is probably all you can handle. Note: $2 SkySocks are required to jump, but they are yours to keep and reuse.
Northwest Houston
Price: $5 to $7
Hit this classic drive-in for a double feature on the cheap. Tickets are $7/adult and $5/child ages 3 to 12.
Downtown (& other locations)
Price: $5
It's just $5 to get your own bike for the day. Just check it in at one of the many stops after an hour, then every 30 minutes after that to keep from getting charged more. That's more than enough time to bike the bayou trail from Waugh to Downtown.
(Cont'd Below)
Dairy Ashford
Price: $6 to $10
The old-school roller rink will run you $6-$10 with admission and rental.
Multiple locations
Price: $9.49
This juice-dripping beef bomb will be the best $9.49 you've ever spent.    
10. Catch a dueling piano show at Howl at the Moon
Midtown
Price: $7
On Thursdays, you can skip the $7 cover charge. Meaning more money for beer!
(Cont'd Below)
11. Play happy hour laser tag at Track 21
Bear Creek
Price: $5 to $10
Channel your inner pre-teen with $5 games of laser tag (or $10 kart races) on Mon-Thurs from 3-5pm.
12. Get a Japanese sake flight at Izakaya
Midtown
Price: $8
Midtown's coolest Izakaya hosts a happy hour with $8 sake flights on Wednesdays in addition to a whole bunch of other good stuff.
Downtown
Price: $5
The Astros really do appreciate you, after all. Don't miss your chance to get special Outfield and View Deck I or II tickets for $5 a pop.
West University
Price: $1+
This winery offers $1 to $2 tastings, plus specials like $5 wines by the glass on Fridays after 5pm.
(Cont'd Below)
15. Yell BINGO!
Timbergrove/Downtown
Price: $5 to $10
Lodge 88 holds Thursday night games starting at $5/pad. And there's Market Square's high-stakes blanket bingo, which will run you $10/game.
Montrose (& other locations)
Price: $5
This no-frills pool hall has been known to run specials like $5 unlimited pool on select days; check its page for the latest deals.
Rice Military
Price: $5
Don't miss your chance to see this house with siding made from over 50,000 cans of BEER! Entrance to this Houston landmark is $5/person.
18. Get BOGO sushi rolls at Oishii
Greenway
Price: $4
Happy hour means buy one get one free $4 appetizers like fried squid tempura, pork gyoza, and spicy salmon, dynamite, and California rolls. Mon-Fri, 3-7pm; Saturdays, 3-6pm.
19. Slurp happy hour oysters
Multiple locations
Price: $1 and up
Want more happy hour? Take a gander at our oyster happy hour guide.
Lazybrook/Timbergrove
Price: $7
The $7 tour includes a tasting of four Yellow Rose whiskeys and Howdy Stranger vodka.
21. MONDAY NIGHT MADNESS at Main Event
Katy
Price: $9.95
$9.95 for all-you-can-play bowling + laser tag + billiards + gravity ropes = best Monday night ever?
Downtown
Price: $10
Ten bucks will get you the chance to make a fool of yourself on Saturdays and Sundays late August through mid-November.
(Cont'd Below)
Downtown
Price: $5 to $7
Glide along the picturesque bayou on a 30-minute boat tour, offered the second Saturday of every month for $7/adult and $5/child.
Midtown
Price: $5 to $10
America's only Museum dedicated primarily to preserving the legacy and honor of the African-American soldier is a worth the $10 admission (or $5 for students, seniors, and military).
Gulfgate/Pine Valley
Price: $5
Just $5 will get you into one of the wackiest art installations in the city.
26. Hit the holes and the batting cages at Zuma FUN Center
South Houston
Price: $9.50
Eighteen-hole mini golf is $7.50/game and 20 pitches in the cages will cost you a steep $2.
27. Value Wednesdays at the HLSR
NRG Park
Price: $10
Did you know you can get upper level seats for championship rodeo action, plus a superstar entertainer for just $10 on Value Wednesdays? Now you do.
Houston Ship Channel
Price: $4
It's 567ft to the top of the historic landmark. Hit the observation deck for $4 and visit the museum for free.
(Cont'd Below)
Via BROOKE VIGGIANO with THRILLIST
29. Feed giraffes at the Houston Zoo
Museum District
Price: $7
The zoo offers free admission on the first Tuesday of every month (Sept-May), so you can spend your hard-earned cash on feeding giraffes like a boss.
Downtown
Price: $5
Kayak rides ($5 per person) are available daily through August 19th. Check Discovery Green's website for the year-round schedule.
31. Play with stingrays at the Aquarium
Downtown (& Kemah)
Price: $4.99 to $6.99
Both the Downtown and Kemah locations will give you the chance to feed and touch live stingrays.
Kemah
Price: $6
Hit the Kemah Boardwalk to ride this 96ft-tall wooden roller coaster.
33. Hit the breweries
Multiple locations
Price: $7 to $10
From the heavy hitters to up-and-coming spots, some of Houston's excellent breweries offer tours and tastings starting at $7. Start here.
34. Channel your inner Wonka at Kegg's Candies
Meyerland
Price: $8.50
The 1946 candy company offers chocolate factory tours for $8.50 a person.
River Oaks
Price: $7.50
Get acquainted with Miss Ima Hogg's gracious and beautiful formal gardens for a $7.50 entry fee.
First Ward
Price: $6
Most improv and sketch comedy shows are $6 admission advance purchase. Plus it's BYOB. Win!
Briar Meadow/Woodlake
Price: $10 or less
You'll find free open mic nights and plenty of shows $10 and under at Houston's hottest honky tonk.
Montrose
Price: $7
A dozen of the most glorious, custard-filled, sugar-dusted, and chocolate-dipped donuts will run you around $7.
Galveston
Price: $5
Daily fees for the picturesque 2,000-acre park are just $5 per person and you don't need a license to fish in the bay or beachside.
Northwest
Price: $2 and up
Catch live races for $7 or head there for a no-cover daily simulcast, where $2 wagers could have you rolling in dough (kinda not really).
Price: $2
For what is essentially pennies, you can sign up for a docent-led tour of the 87,500sqft, 25ft-tall underground cistern. It's totally glorious already, but the Buffalo Bayou Partnership announced plans to add art installations, too.
42. Have a sit-down meal on the cheap
Price: $10 and under
From smoky chicken-stuffed poblanos to properly scorched and bubbly Neapolitan-style pies, hit up the best $10 and under sit-down meals in town.
Price: $5
It's pretty much the only reason to go to Hobby Airport.
44. Learn about funeral history?!
Price: $10
Creep yourself out at the National Museum of Funeral History, which just so happens to host the largest collection of "funeral service artifacts" in the ENTIRE country.
45. Smash $5 burgers
Price: $5
Houston's sweetest burger bargains include $5 burger Mondays at Red Lion Pub, $5 slider Tuesdays at Doc's, and $5 green chile burger Thursdays at Pistolero's.
Via BROOKE VIGGIANO with THRILLIST
---