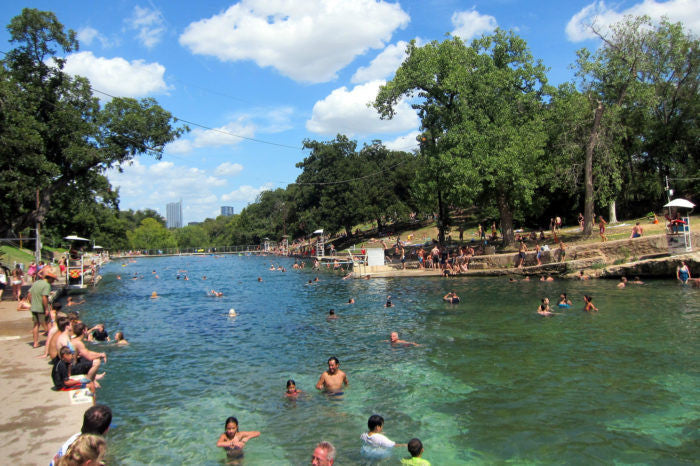 11 Things You Must Do Underneath The Summer Sun In Texas
With summer fast approaching, it's time to start planning your trips and activities. These 11 places in Texas belong at the top of your list and absolutely can't be passed up this season.
1. Devil's River (Del Rio)
This river with beautiful, turquoise water is nestled in a remote valley beneath towering canyons and plateaus, rendering it unknown to most people. We all know Texas isn't known for having the prettiest bodies of water, so it seems even more like paradise.
2. BSR Cable Park (Waco)
BSR Cable Park is home to the world's longest lazy river, sitting at just under a mile. It's the perfect way to relax and float all your troubles away.
3. Barton Springs Pool (Austin)
Experience the best of both worlds at Barton Springs Pool, a man-made swimming pool filled with natural spring water, minnows, and aquatic plant life. It's everything you love about the ocean without the nasty seaweed and brown, oily water. Does it get much better?
4. Gorman Falls (Bend)
Flickr/fiftypercentchanceofrain
This oasis tucked away within the thick brush of the Texas hill country isn't widely known, which makes it even more magical. A quick mile and a half hike will take you to this hidden beauty.
(Cont'd Below)
5. River Tubing (Hill Country)
Only us Texans are crazy enough to spend an entire day floating underneath the blazing summer sun. What can we say? We'll gladly take a little burn for the fun and everlasting memories.
6. Burger's Lake (Fort Worth)
No matter where you live in Texas, there's a nearby refreshing place to cool off. Complete with slides, an epic trapeze swing, plenty of benches for picnics, and a sandy beach for catching some rays, Burger's Lake is summer fun for all ages.
7. Palo Duro Canyon (Canyon)
Second in size only to the Grand Canyon itself, this breathtaking natural wonder is a summer road-trip obligation for every Texan. From camping to bird-watching, hiking to mountain biking, there's more to do here than you might think.
8. Blue Hole (Leakey)
Not only do we have Hamilton Pool and Jacob's Well, but we have another gorgeous natural area here in Texas. This hidden blue hole in Leakey is one of the most beautiful bodies of water in Texas, and it belongs on everyone's summer bucket list.
9. San Marcos River (San Marcos)


Flickr/rain0975

The section of the San Marcos River called Rio Vista Falls Dam is a huge pool with three consecutive waterfalls that you can slide down in your tube. It's as awesome as it sounds, and you haven't truly lived until you've experienced it.


10. Son's Island (Seguin, Tx)


This is the next best thing to cruising to a tropical island - and it's a heck of a lot cheaper as well! You can either rent a cabana for the day or stay overnight in a vintage RV, exploring the lake with your family, cooking delicious meals on the grill, and dancing to your favorite tunes under the stars.


11. Westcave Preserve (Round Mountain)


Yet another hidden grotto in the hill country is Westcave Preserve. With its lush greenery, tall trees, and pristine water, it's akin to the magical worlds of Disney movies. This hidden gem belongs at the top of your vacation planning list.
Have you been to any of these amazing places? What's your favorite summer destination in Texas?


---