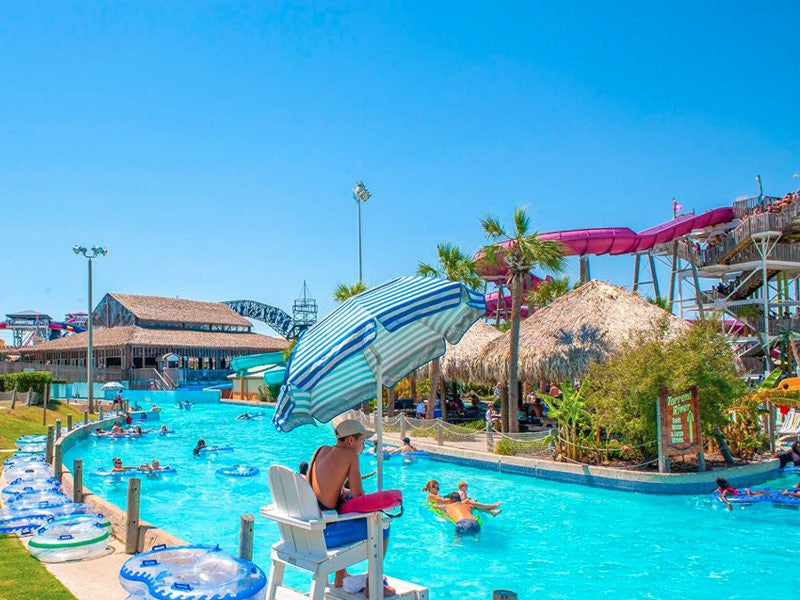 10 Must-Do Summer Adventures in Texas
If you're searching for a summer adventure in Texas, there are so many options available it can feel a bit overwhelming. This list includes some of the best of the best, helping to narrow down all of those possibilities so that you can plan your ideal trip.
1. Listen to the mysterious sounds at Enchanted Rock State Natural Area, Fredericksburg
Enchanted Rock is a huge dome made up of pink granite that soars 425 feet above the ground. What makes it one of the state's top adventures, is that it's rather mysterious. When a cool night follows a warm day, the rock makes audible creaking noises due to the contraction of the outer surface of the rock. Although we know what makes the sounds, that's what likely fueled the legends about it – coupled with its sparkling appearance on damp nights when the moon is bright. Native Americans claimed to have heard the rock groaning at night and witnessed bright fires at the top. You can take a hike to admire the beautiful scenery during the day, and then stick around to see if those claims hold any truth, if you're brave enough, that is. Exploring nature with mysterious folklore definitely makes for quite the adventure.
(Cont'd Below)
2. Explore the Caverns of Sonora
The Caverns of Sonora is internationally renowned as one of the world's most spectacular show caves. Located where the Texas Hill Country meets the Chihuahuan Desert, these vast caverns were carved from limestone between one and one-and-a-half million years ago and boast one of the most extensive collections of calcite crystal formations on Earth. Visitors can take a guided tour to explore the highly decorated cave system in depth, as well as enjoy activities on the ranch-inspired grounds, like panning for gemstones, hiking, RV, and tent camping, as well as sampling homemade fudge or picking up a souvenir in the gift shop.
3. Cool off at Schlitterbahn Water Park, Galveston Island 
Schlitterbahn is considered one of the world's best water parks, and without a doubt, it's the top water park in the state of Texas. It features three miles of lazy and rushing rivers complete with rapids, as well as 17 speed slides and lots of pools and beaches. The highlights at this unique, enormous park are both world's first: the Master Blaster uphill coaster that sends passengers racing through the dark for face-to-face encounters with a watery dragon, and the wave- making Boogie Bahn Surfing Ride. The park is a full-fledged resort with lodging and offers a number of add-ons too, like cabanas, heated pools, and swim-up bars, while horseback riding, fishing, and winery tours can be enjoyed nearby.
(Cont'd Below)
4. Hike to Gorman Falls, Colorado Bend State Park
Gorman Falls is a magnificent 60-foot waterfall that cascades into a fern-covered grotto in Colorado Bend State Park. The water comes from Gorman Springs and cascades down leaving behind calcium deposits from the mineral-rich water, which over time have grown into beautiful formations on the limestone rocks. It can be reached via a rugged 1.5-mile hike, and if that's not enough, you can embark on more scenic hikes afterward, with a total of 32 miles of trails here. The park is also home to Lake Buchanan and offers other fun activities like wildlife viewing, caving, fishing, and swimming. Kayaks are available for rent at the park headquarters, and you can camp along the shores of the river too.
5. Camp at Pecan Flats, Inks Lake State Park
Inks Lake State Park, located northwest of Austin, is popular for hiking and camping, and offers canoes and kayaks for rent at the park store. Camping here is one of the best summer adventures, you can get out on the lake early and check out beautiful views, including glimpses of the water snakes that bask in the sunshine on the exposed rocks, and then paddle out to the scenic Devil's Waterhole on the lake's east end. This is a perfect spot to tie up your kayak or canoe and enjoy some cliff jumping into the water, or take a hike to search for a hidden waterfall. Pecan Flats offers secluded, primitive campsites that are ideal for a tranquil more unique escape, set away form park visitors, located about a mile in from the Pecan Flats trailhead. The nine sites are set off the trail for privacy, alongside a creek.
6. Take a Dip in Hamilton Pool Preserve, Dripping Springs
This magnificent grotto offers the ideal adventure for the whole family. The anticipation you'll feel on the hike along the short, scenic trail that leads through a lush, stream-fed canyon up to the water, will be nothing compared to the scene that awaits here. This jaw-dropping oasis is tucked among cattle grazing lands near Dripping Springs, and is considered to be one of the best swimming holes in the entire state of Texas. The natural pool is surrounded by giant slabs of limestone, while large stalactites grow from the ceiling high above. As it's just a little over 20 miles from Austin, afterwards, you can enjoy all of the city delights too.
7. Kayak the Guadalupe River
While avid paddlers tend to head to the roaring Colorado River, the Guadalupe River offers an ideal, milder whitewater rafting experience, though it still has plenty of rapids and small waterfalls. This popular river moves along high limestone cliffs, through avenues of bald cypress, and when it is really running, more thrilling rapids too. While the river is 270 miles long, Guadalupe State Park is a great place to go for kayaking with minimal crowds and fabulous cliff views. The river within the park boundaries is fairly calm with a few small rapids, so even a beginning kayakers can enjoy the ride, all while marveling at the lush greenery of the cypress trees and their twisting roots along the banks. The area is also great for swimming and exploring a multitude of hiking trails.
8. Bird watch at Laguna Atascosa National Wildlife Refuge, Los Fresnos
This over 97,000-acre wildlife refuge that lies near the border of Mexico, is home to more documented species of birds than any other National Wildlife Refuge in the country. There are an incredible 417 species of birds, including green jays, aplomado falcons, turkey pheasants and cardinals, and in the autumn, a million redhead ducks can be seen on the Laguna Atascosa. It's also an important habitat for nesting sea turtles, blue crab and many other species. The refuge is open to the public for wildlife watching, education and interpretation, hunting, fishing and nature photography.
9. Play at Six Flags Fiesta
Six Flags Fiesta Texas is one of the main reasons San Antonio is the most visited city in all of Texas. The park is unique with its integration into a quarry wall that serves as its backdrop, but people come because of its wealth of amazing rides. Six Flags Fiesta hosts world renowned coasters like Iron Rattler, Superman Krypton Coaster and Batman: The Ride, as well as other fantastic coasters, including the Road Runner Express and Poltergeist. Come in 2017, which marks its 25th year in business, and you'll discover a host of new additions too, like the just renovated Fiesta Bay Boardwalk, new performances and events, including the Mardi Gras Festival. Thunder Rapids, called "America's first rocket blast water coaster," will open this summer.
10. Go bouldering and climbing at Pedernales Falls
If you like to boulder, or are an amateur rock climber, head to Pedernales Falls State Park just outside Johnson City in Texas Hill Country. This is the home to Pedernales Falls, which is distinguished by gigantic slabs of ancient limestone that have been gouged by the furious floodwaters of the Pedernales River. The falls have served as a filming location for movies like "Boyhood," "Spy Kids 2," "The Alamo" and the HBO series "The Leftovers." The 5,212-acre park is renowned for its scenic hiking trails as well as its swimming holes, and those who like to climb over rocks will be in heaven. You can head down to the river and climb over hundreds of them, which span its entire length – as far as the eye can see.
Via K.C. Dermody with Trips to Discover Texas
---